Easton Press TOLKIEN 5 VOL SEALED Lord of the Rings, Hobbit, Silmarillion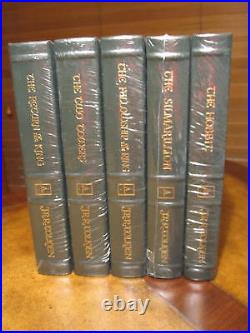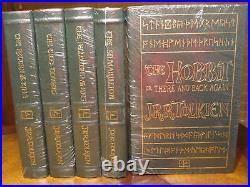 The Hobbit The Fellowship of the Ring The Two Towers The Return of the King The Silmarillion. Tolkien's epic fantasy comes alive in this five-volume set: The Hobbit, illustrated by Tolkien himself; The Lord of the Rings, with frontispiece art by acclaimed fantasy illustrator Michael Hague; and The Silmarillion, stories of Middle-earth. 5 3/4" x 8 3/4". Factory Sealed - Shrink Wrapped. Easton Press books are bound in genuine premium leather and come with moire fabric endsheets and a permanent satin ribbon page marker. The spines of these luxurious books are accented in 22-karat gold and are hubbed with traditional raised rings. Each unique binding is decorated with a deeply inlaid design of 22-karat gold. The page ends are gilded in 22-karat gold for beauty and protection against dust and humidity.
Easton Press Books are also printed on archival-quality acid-neutral paper that is Smyth-sewn for strength and durability.