Folio Society Limited Ed. LORD OF THE RINGS Hobbit Silmarillion J. R. R Tolkien 5v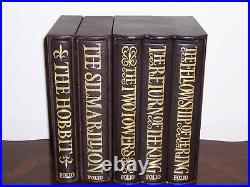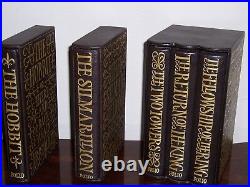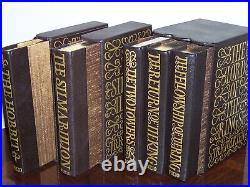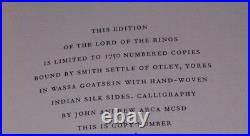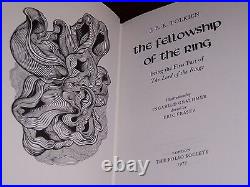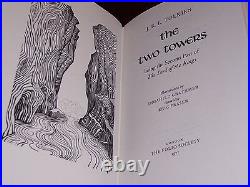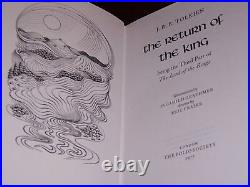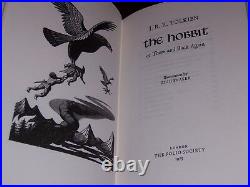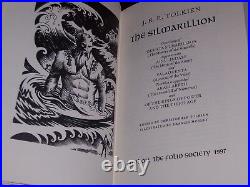 Published to commemorate the 400th anniversary of its original publication. Folio Society THE LORD OF THE RINGS by J.
Limited to 1,750 copies, numbered on a special limitation page Same limitation number on all books. PUBLISHED BY Folio Society, London. Illustrations by Ingahild Grathmer, calligraphic lettering drawn by John Andrew.
Bound by Smith Settle of Otley in Wassa Goatskin with hand-woven Indian silk sides. Measured about 5 3/4" x 9 1/4".
Gilded top edges with ribbon markers. Presented in goatskin cushioned scallop edged slipcases with calligraphy by John Andrew.
LIST OF TITLES: Complete in 5 volumes. THE FELLOWSHIP OF THE RING: being the first part of THE LORD OF THE RINGS 2.
THE TWO TOWERS: being the second part of THE LORD OF THE RINGS 3. THE RETURN OF THE KING: being the third part of THE LORD OF THE RINGS 4. The Hobbit, or there and back again, illustrated by Eric Fraser 5.
The Silmarillion, edited by Christopher Tolkien, illustrated by Francis Mosley. CONDITION DESCRIPTION: The set of books are like new: clean inside pages, tight bindings, firm hardcover. The set will be a great addition to your family library.