Lord of the Rings Trilogy 1955,59 First UK Editions J. R. R. Tolkien Fantasy SF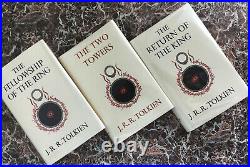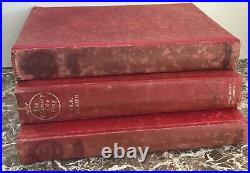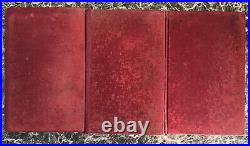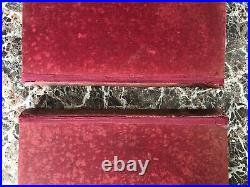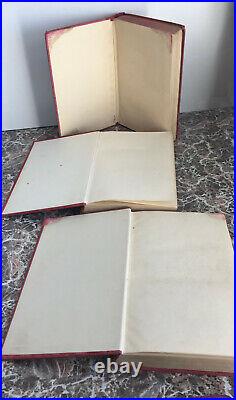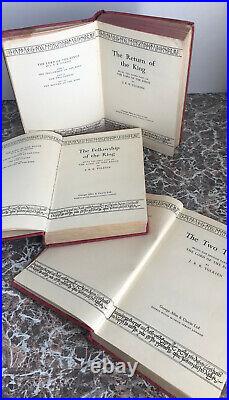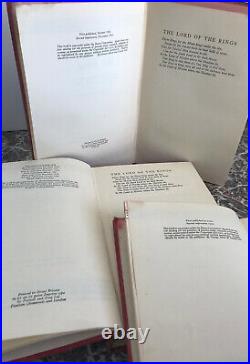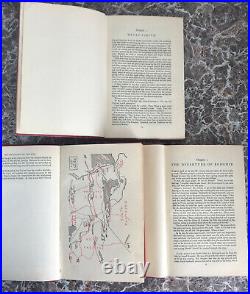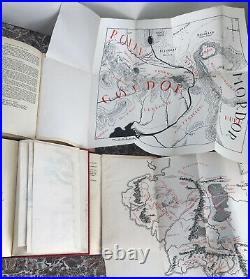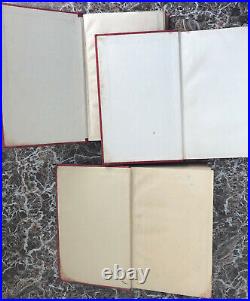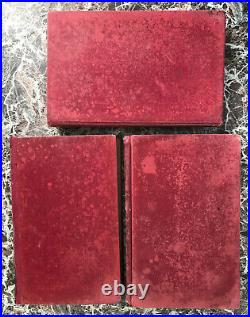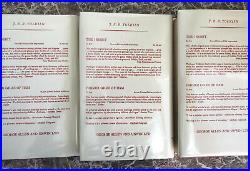 Do not meddle in the affairs of wizards, for they are subtle and quick to anger. Her e we offer the complete Lord of the Rings first edition trilogy, by J. Tolkien and published by George Allen & Unwin, Ltd. This includes the 1959 stated "Eighth Impression" of the first UK retail edition of The Fellowship of the Ring ; the 1955 stated "Second Impression" of the first UK retail edition of The Two Towers ; and the 1955 stated "Second Impression" of the first UK retail edition of The Return of the King. Wrapped in the highest quality facsimile of the first edition dust jacket you can only get here, digitally remastered and printed on coated heavyweight bond. The polymer coating on the paper ensures the brightest colors and sharpest prints, as the ink sits atop the paper rather than being absorbed into the fibers. As is usual for these books, boards are edgeworn, soiled, and stained. Towers and Return each have a very secure red book cloth repair to one edge of the spine; they also have a moisture stain with red from the book block leeching onto the upper corner of the first and last few pages of the text block (please see pics).
All six hinges are intact and there are no inscriptions. Return has a tape repair on p. 63 and some soiling on pp. Otherwise, all text and illustrations are very clean, bright, and crisp. Bindings are tight and square.
Each of the large fold-out maps is in excellent shape and attached. Fellowship and Towers offered the same map. The dust jackets come wrapped in ph-neutral mylar sleeves, ready to slip into your collection. 423, 351, and 416 pages, respectively.
The books measure approximately 9 x 6-inches. This classic trilogy of firsts will make a wonderful centerpiece to your collection or a very special and thoughtful gift. This series was burned in Alamagordo, NM (2001) outside Christ Community Church as satanic.
Check out our shelf of other iconic fantasy and sci-fi firsts by clicking HERE! Have you seen all the amazing first and rare editions of iconic books we offer?
-- other auctions of classic antiquarian literature and special gifts! Thank you for your interest!