The LORD Of THE RINGS by J. R. R. Tolkien Illustrated Deluxe Ed First Edition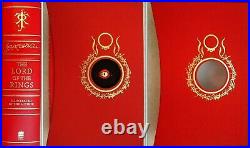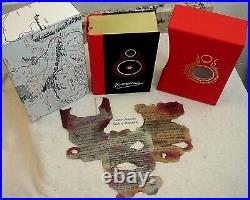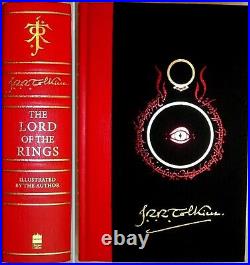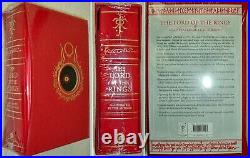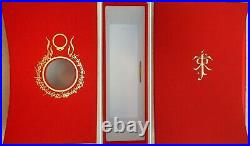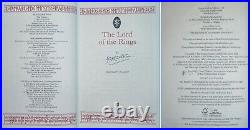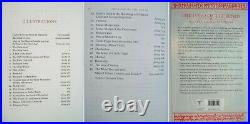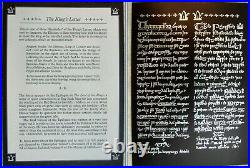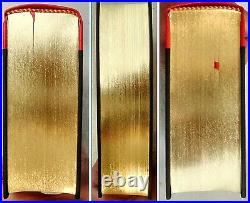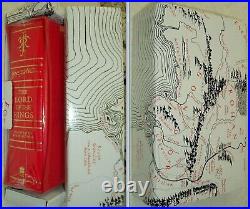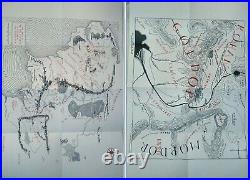 The Lord of the Rings. Brand new, still in publisher's shrinkwrap, red leather spine and cloth hard covers. A custom made cloth covered slipcase is included.
The page edges are gold (gilt) all around. This is the Illustrated Deluxe Edition that, for the first time in LOTR publication history, includes Tolkien's own paintings, drawings, and illustrations. The deluxe edition includes a number of exclusive features including: A definitive version of the text printed in two colors on acid-free paper, more than 30 full-color paintings drawings and illustrations by Tolkien, the original red and black maps drawn by Christopher Tolkien including two appearing as large (22 inches long and 14 inches wide) fold-out posters, A removable facsimile of the King's Letter that appears in the rejected epilogue to TLOTR, quarter-bound in red leather and black cloth with raised spine ribs and stamped in two foils with the author's Ring device, and housed in a custom built slipcase bound in red cloth and stamped in gold foil with circular die-cut revealing the Eye of Sauron.
A stunning and unique version of LOTR. Only 5,000 copies are being printed.
Book is 9 inches tall by 6 inches wide, 1178 pages included index. Pictures of an opened title are for display only. You will receive a brand new, never opened copy. Red cloth covered slipcase with circular die-cut revealing the Eye of Sauron.
Quarter bound red leather hard cover with black cloth boards and raised ribs on the spine. 2 foldout maps in black and white by Christopher Tolkien.
A copy of the original "King's Letter" written in tengwar that has never been included before. 3 Leaves from the Book of Mazarbul held in a glassine envelope. Of the terms stated above.
I make every effort to show the defects (if any) in the pictures provided.