The Lord of the Rings The Folio Society Limited Edition #74/1000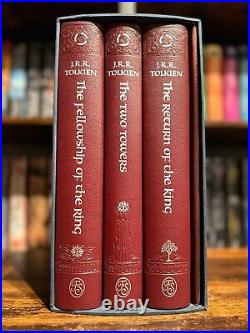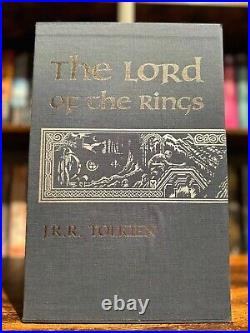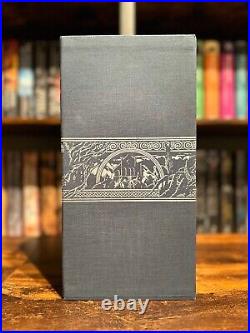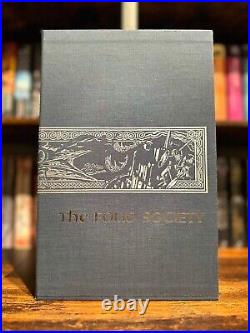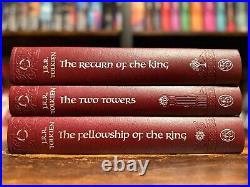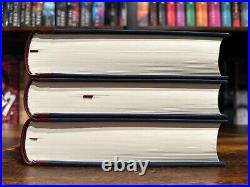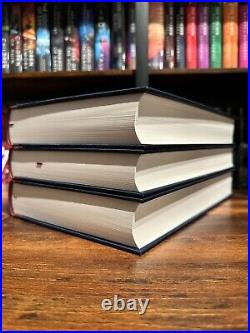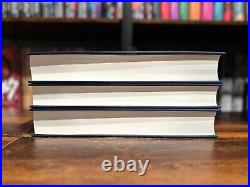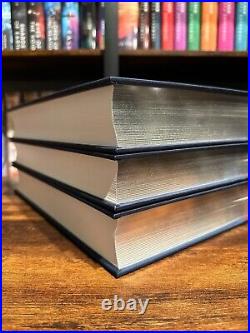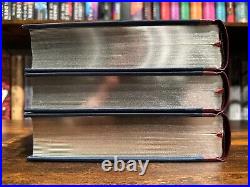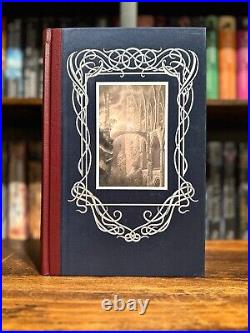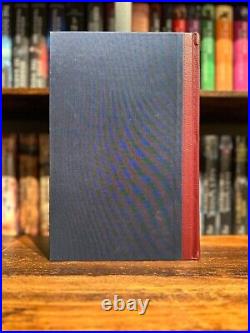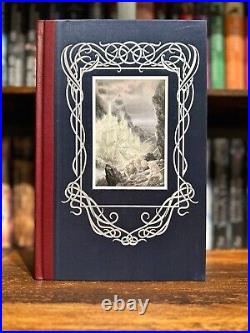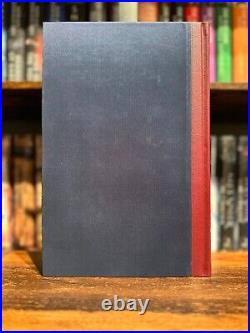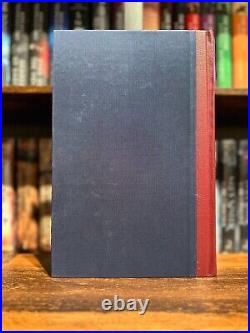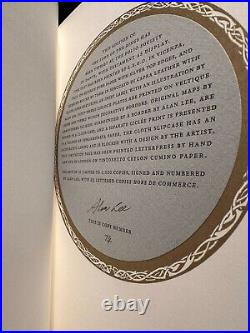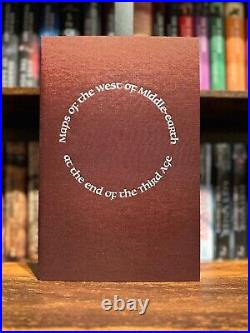 The greatest classic of fantasy fiction and one of the most celebrated stories of all time. The Lord of the Rings. Defined a genre and created a world that inspires and enchants to this day.
This exquisite three-volume set is presented in a silver-blocked slipcase (lined with a hidden illustration) with a new art print exclusive to this edition and a pair of maps drawn by Christopher Tolkien, printed together and presented in a cloth-covered case. Each volume is quarter-bound in burgundy calfskin leather blocked in silver, with an illustrated inset label, silver page tops and a burgundy satin ribbon marker. The text itself - printed in black and burgundy - is the most up-to-date and academically rigorous available, and is accompanied by a new preface written exclusively for this edition by the artist. Limited to 1,000 sets numbered and signed by Alan Lee? Quarter-bound in leather with cloth sides blocked in silver and inset with illustration labels? Circular limitation tip printed letterpress on Tintoretto paper hand tipped within a gold border? Set in Dante with Testament as display? 1,504 pages in total over three volumes printed on Munken Pure paper? Printed in black and burgundy throughout? 53 colour illustrations in total printed on Veltique paper tipped within printed borders? Endpapers printed with a design by the artist? Also included is a Note on the Text by Douglas A. Anderson, a Note on the Revised Text by Wayne G. Hammond and Christina Scull, Tolkien's Foreword to the Second Edition and Prologue, as well as Appendices and Indexes. Two maps printed together in black and red and enclosed in a case covered in blocked cloth? Hand-made cloth-covered slipcase blocked in silver and gunmetal with printed illustration inside? Separate print presented in a folder of Pergamenata paper?
Alan Lee's work is synonymous with the worlds of J. Tolkien, having defined the visual setting of Middle-earth for a generation. In 2001, Peter Jackson's film adaptation helped to introduce the epic to an even wider audience, and Alan Lee was the natural choice for a lead concept artist winning him the 2004 Academy Award for Art Direction.
The majestic scale of the landscapes and the atmosphere he captures on the page - all in exquisite watercolour and pencil - make him the only choice to illustrate this, the ultimate edition of. Lee's original illustrations have been reproduced to the artist's exacting standards, in a scale and quality never seen before, and have been augmented by several entirely new images, including enchanting endpapers depicting the One Ring long before it came into Frodo's possession, three frontispieces, two revised versions of existing illustrations, a new image titled'The Grey Havens' and an exclusive giclée print. As well as 53 colour illustrations across three volumes, each printed on gorgeous Veltique paper and hand-tipped within decorative borders, Lee has drawn 57 stunning new chapter openers, each one with details appropriate to the chapter: for The Council of Elrond, the decorative flourishes flow elegantly, reflecting the grandeur and love of nature of the elves; for The Bridge of Khazad-dûm, the patterns have become geometric and angular, a nod to the steadfast character of the dwarves. THE ESSENTIAL EDITION OF A FANTASY MASTERPIECE. As much a celebration of Lee's art as it is of Tolkien's legacy, Folio's.
Is the ultimate edition for any collector. Strictly limited to 1,000 sets, the limitation page has been tipped in by hand and numbered and signed by Alan Lee. Every set comes with a beautiful art print, presented in a translucent Pergamenata paper folder printed with a burgundy design. Furthermore, Lee has designed three intricate roundels for the title pages and six decorative borders to frame the tipped-in illustrations along with a frieze for the slipcase.
All that is gold does not glitter, not all those who wander are lost. When Samwise Gamgee wonders if their extraordinary journey will become a tale told by the fireside, he imagines the story of the Ring read from'a great big book with red and black letters'; perhaps this grand edition, crafted with such love for the story, is what he pictured. John Ronald Reuel Tolkien was born in South Africa in 1892 and moved to England with his family while still a child.
Both his parents died when Tolkien was young and he and his brother lived with a relative and later on, in boarding houses. Tolkien studied at Exeter College, and went on to teach at Oxford.
It was during this time that he published. He continued to work as a professor until 1959 and he died in 1973, aged 81. Alan Lee was born in London, England, in 1947. He attended the Ealing School of Art to study graphic design, concentrating on the depiction of Celtic and Norse myths. Lee is one of the most celebrated living illustrators of myth and fantasy: a recipient of the Kate Greenaway Medal and an Oscar-winner for his conceptual work on Peter Jackson's films of.