Tolkien LORD OF THE RINGS OCTOBER 1966 WHITE BOX REMINGTON TRIPTYCH LOT 977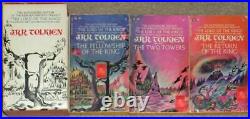 THE LORD OF THE RINGS. Featuring the REMINGTON WILDERNESS TRIPTYCH COVER. In the Promotional White Box!
The covers and content are EXACTLY the same. Three Rings for the Elven-kings under the sky Seven for the Dwarf-lords in their halls of stone. Nine for Mortal Men doomed to die. One for the Dark Lord on his dark throne.
In the Land of Mordor where the Shadows lie One Ring to rule them all, One Ring to find them, One Ring to bring them all and in the darkness bind them. In the Land of Mordor where the Shadows lie. As you may be aware, after the ACE paperback debacle, Tolkien changed the text for the Second and Fully Authorized editions of The Lord of the Rings release worldwide in 1965. The original AUTHORIZED paperback editions of The Lord of the Rings were released in the USA by Ballantine just before Christmas in 1965 featuring the now famous triptych by Barbara Remington entitled Wilderness on the covers of the books, as shown above. For the uninitiated, a triptych are three pictures when laid side by side form a singular larger picture. This edition was the first Ballantine Books printing of the "Second and Fully Authorized Edition" and came in a slipcase with a matching cover. Over the ensuing 6 years, there were over 30 printings with this cover on it, and it was not changed until 1971 when the covers with Tolkien's own drawings were released. The more famous release has this same covers with a matching red color cover to the slipcase, as shown right. However, Ballantine was in such a rush to get these out for the Christmas rush of 1965 that the color versions had not yet been published in any kind of quantity, so the initial release was pressed using the black and white cover as offered here. It is extremely rare as there were very few of them made. All three books are dated October 1966. The Fellowship of the Ring - 9th Printing, October 1966. The Two Towers - 7th Printing, October 1966. The Return of the King - 7th Printing, October 1966. A detailed physical description follows below.. If this weren't a duplicate, it is clean enough that I would add it to my personal collection, which is quite extensive, I assure you!
If you never thought you'd see a first edition of a Tolkien set, here is one. Grab it before someone else does.. About Me & This Item.. I've been collecting art, books, music and "stuff" for over 35 years and have amassed an enormous collection with many duplicates. This is a gorgeous set, gently handled and previously read in GREAT condition.
The spines are ever-so-slightly creased from a previous read. All in all, this is a very clean and highly collectible set, and one you will seldom see offered.
There are links above and below and why not bookmark my site to make it easier to find at a later date! Pay me, I send it, BUT ONLY TO A REGISTERED ADDRESS!
I really DO CARE about when and how your product gets to you. Instead, select ADD TO CART. I HAVE NO CONTROL OVER THIS!
I accept Credit Cards, eChecks and electronic transfers with. Unfortunately, direct bank transfers are not offered due to cost and security concerns.
As I reside in the USA, all payments must be made in US Dollars & Cents. PLEASE remember this when you leave feedback scores as the choice is yours and not my fault if it takes a long time to get there!
International deliveries usually arrive within 1-2 weeks but CAN take up to a month! Finally, we do not mark merchandise values below value or mark items as "gifts"; it is illegal and immoral. Ask and I'll try to answer.. Please check out the other "lovely" items I have just waiting for you by.